Industry Involvement & Awards
At Plekkenpol Builders, we take great pride in participating in the efforts of local and national industry associations to enhance the building industry by establishing industry standards, educational opportunities and licensing requirements. We have also been recognized by these associations for our creative remodeling solutions.
Craig Plekkenpol is a Housing First Minnesota Past President and member of the Board of Directors. His personal commitment to advancing the professionalism of the building industry has led him to be a frequent featured speaker and teacher at key industry conferences and association roundtables.
Each year, one remodeler member of Housing First Minnesota earns this most prestigious award, which recognizes engagement, trade partner satisfaction, community service and customer satisfaction. Plekkenpol Builders has twice been named "Remodeler of the Year."
Craig Plekkenpol was awarded the Robert L. Hanson Lifetime Achievement Award, which recognizes the dedication and service of an individual who goes above and beyond, offering their time, energy and talents while serving at Housing First Minnesota, state and national associations, and in the industry as a whole.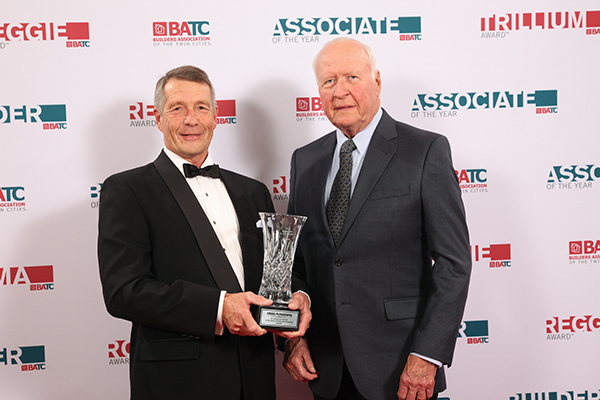 The ROMA award honors members of Housing First Minnesota for excellence in design, construction, quality and value. Since the program's inception in 1982, Plekkenpol Builders has received numerous ROMA awards for everything from kitchens to bathrooms to additions and more. 
Plekkenpol Builders partnered with Housing First Minnesota Foundation to renovate two apartment units for AVIVO, a non-profit specializing in chemical and mental health services, career education and employment services. Plekkenpol Builders was honored with the Build Partner award for our outstanding commitment and partnership with the foundation to build housing for Minnesotans who are experiencing homelessness.
Craig Plekkenpol was a key facilitator in planning and implementing the annual Parade of Homes Remodelers' Showcase in 1988. The committee at Housing First Minnesota recognized that despite the public's desire to see remodeled homes and the remodelers' need for a forum to showcase their work, there were no organized events available for the public to view newly remodeled homes. Plekkenpol Builders showcases its most impressive remodeled homes each Spring and Fall during the tour.
NARI is a nonprofit trade association representing the largest network of professional remodelers in the United States. Plekkenpol Builders has been an active member since 1999.
The ACE award program gives consumers the opportunity to rate remodeling service providers in five categories: quality, responsiveness, meeting deadlines, professionalism and communication. Plekkenpol Builders is proud to have received the ACE award for providing an elite level of service to customers.
Plekkenpol Builders has been honored with numerous COTY awards in categories ranging from kitchens to baths to whole houses. Project entries are judged by a group of industry peers based on meeting clients' objectives, functionality, problem solving, aesthetics, craftsmanship, innovation and degree of difficulty.
Craig Plekkenpol serves on the Board of Directors and is a NAHB Life Director/Permanent Voting Member.
Craig Plekkenpol was one of the first builders to earn the designation of Certified Graduate Remodeler by the NAHB Remodelers Council. Plekkenpol Builders has been named "Remodeler of the Month."
Certified Aging-in-Place (CAPS) Designation
Craig Plekkenpol and other staff members have earned CAPS Designation, a program that teaches the skills essential to designing home modifications for aging-in-place, allowing people to stay safely and comfortably in their homes as they age.
Plekkenpol Builders is an ASID Industry Partner and has been a program and event sponsor.
Plekkenpol Builders has been an Accredited Business with an A+ rating for over 30 years. BBB accreditation standards include advertising honestly, safeguarding customer privacy and disclosing all material facts to customers. Plekkenpol Builders was honored with the Better Business Bureau Integrity Award for the company's exemplary level of honesty and ethics. 
Plekkenpol Builders was named "Small Business of the Year." by the Bloomington Chamber of Commerce.
For Craig Plekkenpol's significant contributions to the City of Bloomington, the remodeling industry and Bloomington's business community, Bloomington Mayor Winstead declared February 20, 2016 "Craig Plekkenpol Day."
Plekkenpol Builders has received the "Best of Houzz" Award for Customer Satisfaction, given to those who are rated at the highest level for client satisfaction. Plekkenpol Builders has also been named a "Houzz Influencer" for knowledge and advice that is highly valued by the Houzz community.
Plekkenpol Builders was named to the annual "Big50" Hall of Fame for exemplary business practices, management skills, community service, design and craftsmanship. Craig Plekkenpol was selected for the Hall of Fame and honored by the magazine as its featured builder.
Plekkenpol Builders received the NRS "Best in Class" Award in Homeowner Satisfaction and Customer Service
Plekkenpol Builders has been given the Readers' Choice Award in several different categories including "Best Remodeling Company," "Best Deck Company" and "Best Handyman" by SUN Newspapers readers in Bloomington, Richfield, Eagan, Excelsior and Burnsville. The awards are voted on by readers and given to those who exemplify excellence in their field.
Our projects have been featured in the Star Tribune for their creative problem-solving, craftsmanship and inspiring stories. Our Project Managers are frequently called upon to be "expert sources" on Twin Cities remodeling.
The "barkitecture" movement has remodelers creating pet-friendly spaces for furry family members, including this custom dog wash for our clients' two Great Danes in Minneapolis – May 21, 2023
When their daughter, son-in-law and three grandchildren moved in across the street, our clients in Edina decided to stay in their longtime home and invest in its interior – April 4, 2021
Instead of tearing down and rebuilding their Lake Minnetonka home like so many others around them, our homeowners opted to remodel – July 21, 2018
Craig Plekkenpol shares his thoughts on why Twin Cities homeowners are renovating houses at an unprecedented pace, choosing to remodel rather than move – September 26, 2017
Our lower level playhouse in Hopkins is featured in an article about secret rooms and creative kids' spaces – April 29, 2017
Our amazing dining room-to-game room conversion in Maple Lake – January 28, 2017
Craig Plekkenpol discusses the increasing trend of remodeling projects that accommodate extended families – October 30, 2015
Project Manager Dan Hayes discusses converting attics into usable living space – February 22, 2014
A small addition makes a big impact in a 1970s Eagan rambler, our 2013 Spring Remodelers' Showcase home – March 16, 2013
Our Bloomington homeowners gave up a formal dining room but gained a bigger, modern kitchen – September 24, 2012
Plekkenpol Builders is a member of NKBA, a non-profit trade association that promotes professionalism in the kitchen and bath industry among designers, retailers, remodelers, manufacturers, distributors, fabricators, installers and other industry professionals.
The NKBA's annual competition offers an exclusive platform for designers, builders and remodelers to showcase their expertise in kitchen and bath design and benefit from nationwide industry and media recognition. Plekkenpol Builders has been honored with this prestigious award.